Having worked in the wedding industry for over 5 years I've seen a fair amount of stressful situations in my time. From the father of the bride realizing he left his suit at home, to the florist thinking your wedding was next week. There is no doubt that a wedding day puts a lot of pressure on a lot of people, most notably the bride-to-be herself. Despite best efforts to plan and mitigate possible situations there always seems to be something. Regardless of what happens, it doesn't have to derail your day!
Tara, the bride whose beautiful wedding I'm sharing in this post, was as relaxed and happy as could be the morning of, even after learning her officiant drove to the wrong venue, about an hour away. To some, that may sound like a disaster, but it seemed barely even noticeable thanks to how it was dealt with. The officiant did her best to get there as soon as she could, the guests had a bit more time to take in the gorgeous grounds of the Banff Springs Hotel and the wedding party got a little longer to sip champagne! Not bad at all, right?
Of course, some things will not go perfectly as planned, and it is best to accept this in advance. I am going to share with you what I consider the best ways to help be as stress free as possible on the morning of, so you can enjoy yourself regardless of the minor hiccups (in hindsight they will be minor, I promise!). Your main goal should be to remain focused on what really matters; soaking up as much joy as humanly possible on your wedding day! Scroll down to read how: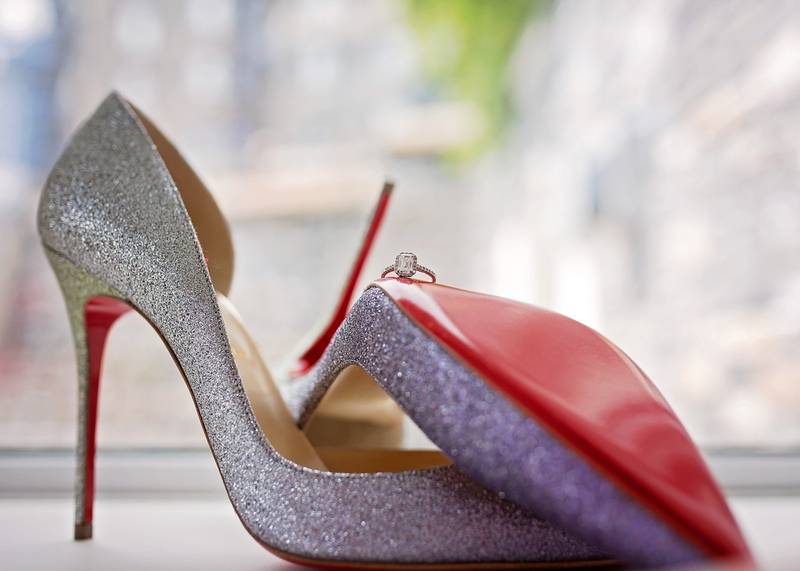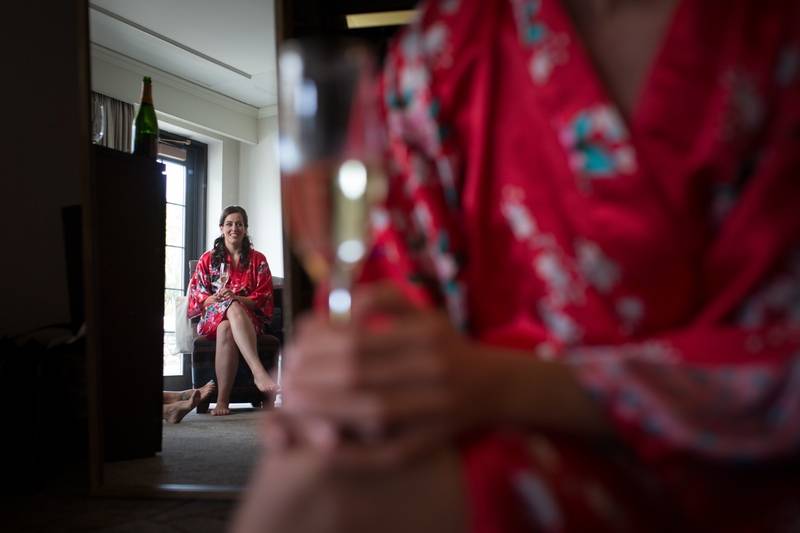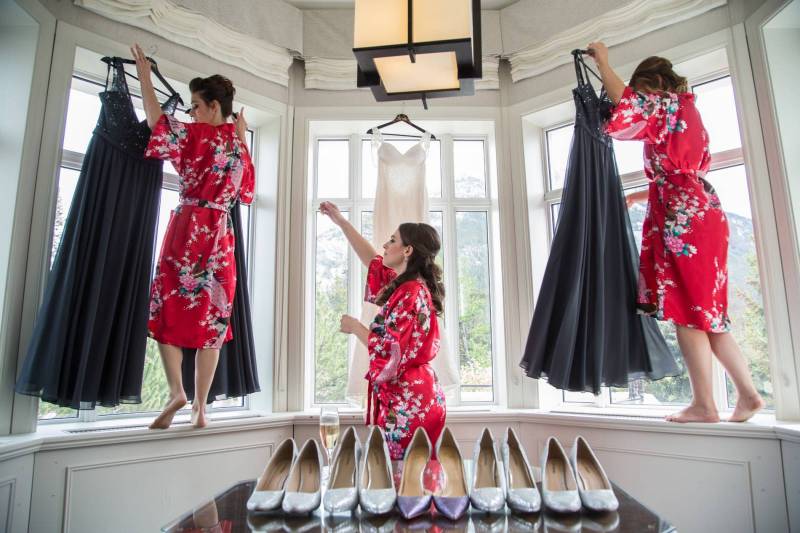 Generally, the bride is the person everyone needs when a wedding day issue arises. If you won't be hiring a wedding planner/day of coordinator speak with someone in advance to be your 'point person'. They should be close to you on the day of, and someone you trust can remain responsible and calm prior to the wedding. I have seen brides become very overwhelmed when too many people start asking questions. Let your bridal party and immediate family know that, should any issue arise on the day or if they have questions needing answering they first should speak to the individual you've appointed that day. By having someone be your contact person it limits information coming at you from multiple people and avoids the 'too many cooks in the kitchen' situation. (I'm asking one of my bridesmaids to be mine!)
Have someone else be in charge of your cell phone! There always seems to be a wedding guest having a last minute issue who; can't make your wedding/ is running late/ can't find the ceremony location/ can't remember what time they are supposed to show up/ etc. You do not need to be distracted by other people's disorganization the morning of your wedding. Someone else can handle these things. If you would like to know if/when your fiancé messages you, ask the individual checking your phone to let you know, otherwise, give yourself the day off!
(Keep reading for more tips!)
Be choosy about who is getting ready with you in the morning. Your hotel suite or home does not need to be an open door for everyone. When multiple people are sharing a space and getting ready things easily get misplaced, creating unnecessary confusion and stress. Keep in mind however many people you plan to be there with you, there will also be your photographer, possibly their assistant, and your hair and makeup team. Be sure to share that time with a small group of people who will add to your enjoyment and help you stay relaxed. Your other wedding guests and extended family can see you after your ceremony.
Hydrate in the morning (before you put your dress on) and make sure you have breakfast! Its a big day (think of it like a marathon of emotion) so give yourself the energy to last. If you get hangry like I do, don't even think about skipping breakfast!
Lastly, the most obvious way to avoid being badgered with questions and concerns on your wedding day is to hire a professional wedding planner or wedding day coordinator, as most of the time they will be able to handle it without ever making it your concern. (Personally, I would consider this one of the best investments on your day, apart from hiring a spectacular wedding photographer, of course ;).
A wedding coordinator/planner isn't just there to set-up centrepieces and make sure the place looks beautiful (although they do that, too). They play a major role helping your other vendors focus on the jobs you are paying them for. It is extremely helpful to photographers especially, who, rather than trying to answer questions and organizing and coordinating wedding guests, want to do the best job they can for you by focusing on your wedding photography (no pun intended).
The most common thing I hear from couples is that the day goes by so fast. I hope with these tips I've learned over the years as a wedding photographer and the real wedding example, worry or stress does not (and hopefully will not) be a part of your wedding day. Cheers to a blissfully happy, relaxing wedding day morning, brides!
XO
P.S. If you like this article, please share!