Here are 5 must-do tips to make sure your first look and pre-ceremony bridal shots are everything they should be for your wedding day!
1. Set-up the first look in a place that aligns with your vision. If you want this to be an intimate experience, request that your bridal party remain in another room. Avoid busy places such as a hotel lobby, or anywhere too public if you don't want strangers onlooking or the possibility of having early arriving wedding guests see you. It is absolutely ok to have your bridal party, and whomever else, left out of the first look if you just want it to be the two of you.
2. Talk to your photographer before the big day about what you want, they will be your best resource for where and how to set-up your first look. Have your photographer provide a white drop cloth or white garbage bags to lay underneath your dress/train during bridal party photos to ensure it stays pristine for the ceremony. Always make sure you or a bridesmaid helps with your dress/train before moving so it does not drag.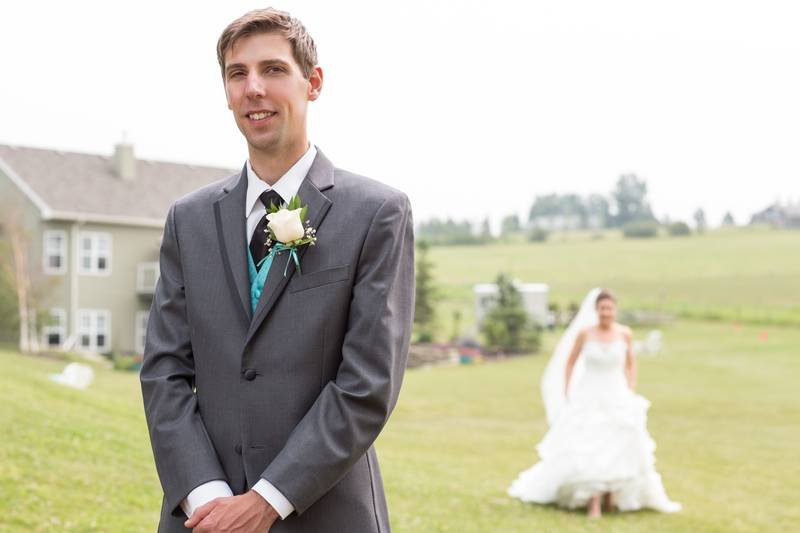 3. Couples often want pre-ceremony bridal party photos shot close to where the ceremony will be occurring. Set-up a timeline for all the pre-ceremony events and share it with your bridal party. Even if you're not big into schedules, you will want to ensure the day stays on course and that these photos in particular are shot well before when guests will be arriving. Many brides do not want to be seen by their guests beforehand and this is easy to avoid on your big day if you have a plan and share it with everyone involved.
4. Choose a later ceremony start time. Unlike a traditional set-up where you need a couple hours in between your ceremony and reception, with a first look you only need time for family photos after the ceremony, which typically take 30-45 minutes (depending on family size). Ceremonies with a first look can easily start at 3:30 or 4pm with cocktail hour starting soon after the ceremony is done (which you will now get to attend!)
5. After your first look and pre-ceremony photos are completed, part ways and arrive separately to the ceremony location. Then get really really excited, because the next time you see each other will be to exchange your vows!